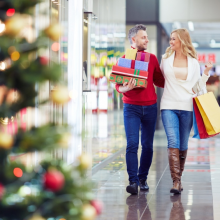 The holiday season is the most fun time of year, but many are left paying the bills for months afterwards.
A recent survey by ASIC Money Smart reveals we spend around $1000 each at this time of year, with the average credit card debt coming in at over $1,600.
So if you're trying to minimise your spending, here are some clever ways you can save on your Xmas shopping.
Make a list & think before you buy
Create a list of everyone you need to buy for and brainstorm some gift ideas for each person (be thoughtful and really think about what they'd love to receive). This way you'll know exactly what you're shopping for and won't get distracted with other purchases. Once you've found the items you're after, pause and think about them for 24 hours before you make the purchase. This will avoid any impulse buying.
Set a budget & always pay in cash
Set yourself a realistic budget based on what you have in your savings and always pay in cash. This will ensure you're not spending money you don't actually have. Don't forget to factor in all expenses like gifts, gift wrap, cards, food and drinks.
Collect gifts throughout the year
If you see a great gift (at a bargain price) earlier in the year, grab it and save it for later. Having a gift cupboard to store future gifts is always handy so you're not waiting until the last minute to do your entire holiday shop.
Shop at outlets or markets
Outlet stores usually tend to offer products at lower prices so do a trip to your local outlet centre to get the bulk of your shopping done. Markets are also great to find some quirky and cheap gifts.
Only order online with free shipping
With so many online stores available, only shop on those that offer free shipping. Most online sites will offer free shipping if you order over a certain amount, so try to combine your purchases wherever possible.
Use after-pay smartly
If you're going to opt for a buy now, pay later service like after-pay, make sure you're still sticking to your overall budget and can actually afford to spend that money. After-pay can be great if used smartly – you'll be set up with an automated payment framework, whilst avoiding any interest fees.
Buy experiences
Many of us are drowning in too much 'stuff'. So why not give an 'experience' instead? Deal websites like Luxury Escapes and Scoopon offer everything from holidays to spa vouchers to kids entertainment options and you can usually snag a bargain. Giving experiences means you can also bundle your gifts and give an experience to the whole family, rather than multiple smaller individual gifts.
Gift exchange
Suggest doing a 'Secret Santa' style gifting within your family. This way you'll be able to purchase one high quality gift for someone, rather than many smaller 'cheaper' presents.
Split your gifts with others
Join forces (and wallets!) with your family members or friends and buy combined pressies for others. Try teaming up with your siblings to buy for your parents – it'll be a huge cost saver!
BYO dish
Food can totally break the bank! So if you're hosting this year's celebratory event, ask all your guests to bring a dish each (be sure to allocate who's bringing what so there's no double ups).
Buy in bulk
This is always worth doing for things like wine, which you can give away as gifts or use for events you are hosting. Most places offer discounts if you buy two or more bottles, but generally it's always more economical to buy wine by the case.